Manufacturers Insurance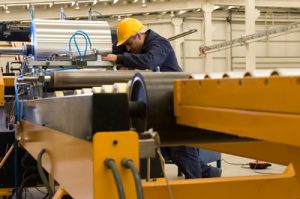 As a manufacturer, you understand the importance of quality and reliability to deliver a product that will build customer loyalty and grow your business. Likewise, with Acadia Insurance, we believe in delivering excellent service and a quality insurance program, so you can stay focused on your business operations, knowing you have a strong insurance partner at your side.
We insure small and regional manufacturers, including:
Food Manufacturers
Metal Goods Manufacturers
Paper Manufacturers
Plastics Manufacturers
Textile Manufacturers
Wood Manufacturers
Toy Manufacturers
Property Highlights
Property Coverage covers your Building and Business Personal Property
Accounts Receivable:
Brands and Labels
Business Personal Property Off Premises
Electronic Data Processing Equipment, Data and Media
Equipment Breakdown
Diagnostic equipment, power generating equipment, and production equipment.
Service interruption of water, communication, or power supply coverage.
Manufacturers Consequential Loss
Sales Representative's Samples
Seasonal Increase
Signs
Valuable Papers and Records
– Coverage for Business Personal Property Off Premises while in transit or temporarily away from the scheduled premises and at a premises you do not own, lease or operate; or at any fair, trade show, or exhibition.
Crime Coverage:
Employee Dishonesty and Forgery or Alteration coverage
Money and Securities
Theft of patterns, dies, molds and forms
Business Income
General Liability Highlights
General Liability Coverage protects you against claims for damages because of bodily injury or property damage to others resulting from your business operations.
Advertising Injury and Personal Injury.
Medical Payments
Damage to Premises Rented to You
Blanket Contractual for all insured contracts.
Host liquor liability.
Worldwide coverage available
Products/Completed Operations coverage
Automobile
To protect against liability or physical damage losses.
Travelers offers:
Commercial auto coverage providing protection for physical damage to and liability for use of your owned autos.
Ability to tailor coverage for hired and non-owned auto exposures.
Workers Compensation
In today's ever-changing workers compensation climate, it is critical to have the best insurance carrier working with you to protect your employees and fight rising loss cost trends.
Umbrella Liability
Provides protection above the General Liability, Automobile Liability and Employer's Liability coverages on your underlying insurance policies. The Umbrella policy can provide primary coverage in certain situations depending on the scope of the underlying coverage.
Coverage may include:
Broader definition of Named Insured.
Expanded definition of Bodily Injury.
Worldwide territory.
---
Need an insurance quote? Get in touch!
Access quotes from New York's most trusted insurance carriers. It's comparison shopping at the click of a mouse.